Beverage machines, Expertise and Consulting
Founded in 1870, the company is now run by the fifth generation. We are specialised in consulting, planning and suppling of machines and complete systems for the processing and filling of liquid food and beverages. According to the needs of our customers, we offer high-quality new and used equipment and machines. Through the work of Dieter G. Neff, the company has more than 40 years of experience in the realisation of tailor-made concepts and technical solutions.
Achim Neff joined the company in 2010. As managing director, he will be involved primarily in the sales and customer relationship areas.
Since our main emphasis is the reconditioning and installation of Tetra Pak machines, we set up a workshop with storage facilities and a spare parts warehouse in 2008. Our technicians are trained Tetra Pak specialists with many years of experience. In addition, our team is boosted by free-lance technicians if required.
Our activities for major German leasing companies also require constant advanced training and knowledge of the latest state of the technology.
TQC und TRA Zertifikate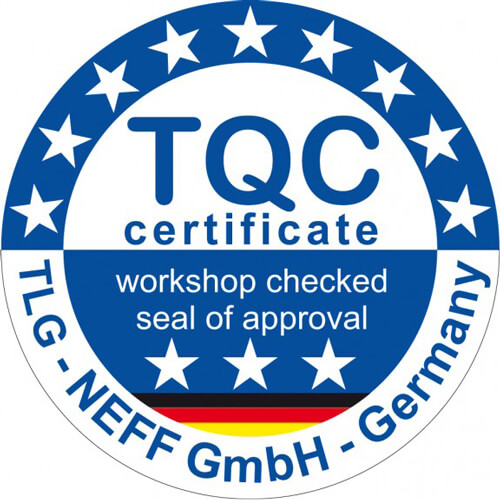 TQC (TLG-QUALITY-CHECK)
The TQC label stands for excellent refurbishment and high standard in using only high-quality parts. It makes sure that our refurbished machines stay in our workshop under the eyes of our best technicians until quality check is fulfilled.
TRA (Test Run Approved)
We do all the tests which are needed to hand over the machine in a tested version, which means realistic start and stop scenarios in various procedures, final setting of design, filling of 100 % water filled packages, timetable measured outputs, controls of consumption and filling levels, and so on, until we can give our second quality label TRA.
Some projects
Some of our projects, involving new and used beverage machines as well as good and reasonably priced Tetra Pak systems were planned for and delivered to companies in the following countries:
Tetra Pak systems
Egypt, Belgium, Botswana, Bulgaria, Chile, China, Germany, France, Guatemala, Cameroon, Republic Congo, Korea, Kosovo, Libya, Morocco, Mauritania, Mongolia, Palestine, Romania, Russia, Serbia, South Africa, Turkey, Hungary, Belarus
Filling and packaging systems for glass and PET bottles
Egypt, China, Germany, Djibouti, Greece, Canada, Malaysia, Moldova, Mongolia, Austria, Portugal, Russia, Slovenia, Thailand, Turkey, Hungary, USAEgypt, China, Germany, Djibouti, Greece, Canada, Malaysia, Moldova, Mongolia, Austria, Portugal, Russia, Slovenia, Thailand, Turkey, Hungary, USA
Food and beverage processing and filtration
Belgium, China, Germany, Estonia, France, Greece, Great Britain, Holland, Iran, Canada, Luxembourg, Mexico, Austria, Portugal, Romania, Russia, Switzerland, Spain, the Ukraine, USA